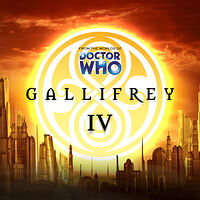 Note: Previous Gallifrey series were released as individual CDs, but with this release Big Finish moved to season box sets instead. Contains 4 audio dramas, plus a 5th CD of behind-the-scenes material. The 4 dramas are: Gallifrey Reborn by Gary Hopkins, Gallifrey Disassembled, by Justin Richards, Gallifrey Annihilation by Scott Handcock and Gary Russell and Gallifrey Forever by David Wise.
Cover blurb:
Gallifrey is a world on the brink of collapse: a devastating temporal virus sweeps across the surface of the planet, whilst rumblings across the galaxy speak of an oncoming, devastating, all-consuming war...
In a bid to escape this fate and save their home, former president Romana and her companions — Leela, Narvin, Braxiatel and K-9 — turn to desperate measures. Corruption and warfare dog their every move.
And not even Time Lords have the power to evade the ultimate destiny...
On a world where everything is changing, only one thing is guaranteed: Gallifrey can never be the same again.