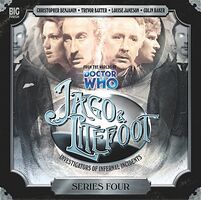 Note: Box set of 4 audio dramas, plus an extra CD of behind-the-scenes interviews.
Cover blurb:
FOUR FULL-CAST ADVENTURES!
Starring CHRISTOPHER BENJAMIN, TREVOR BAXTER & LOUISE JAMESON
With CONRAD ASQUITH, LISA BOWERMAN & COLIN BAKER
JAGO IN LOVE
Jago, Litefoot and Leela take a trip to Brighton, where infernal forces threaten to drive a wedge between our heroes.
BEAUTIFUL THINGS
Litefoot is perplexed by a slew of bodies, robbed of their very thoughts. Meanwhile, Jago and Leela encounter Oscar Wilde.
THE LONELY CLOCK
Jago and Litefoot are on a train to nowhere. Can Leela and Ellie save them in a race against the clock?
THE HOURGLASS KILLERS
The sands of time are running... and they are in pursuit of Jago, Litefoot, Leela and Ellie, as the final battle gets underway.