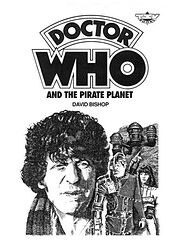 Edition:
New Zealand (3rd paperback)
Title:
Doctor Who and the Pirate Planet
Released:
April 2001

Publisher:
TSV Books
Format:
paperback
Owned:
Note: Substantially expanded, with about 10,000 extra words added by Paul Scoones (with David Bishop's consent) compared to the 2nd edition.
Cover blurb:
The Doctor and Romana head for Calufrax in search of the second segment of the all-powerful Key to Time. But something blocks their attempts to materialise on the barren, ice-covered planet. When the TARDIS does materialise it is not on Calufrax but on the affluent world of Zanak, controlled by the Captain's harsh regime.
What is the secret behind Zanak's bountiful mines and its unseen leader? Who is really pulling the strings among the planet's rulers? What happened to Calufrax, and where is the second segment?
The Doctor, Romana and K9 must battle the ghost of a tyrant ruler from the past and stop Earth becoming the next victim of Zanak — the Pirate Planet!
This is an unofficial and unauthorised fan publication. No profits have been derived from this book. Not for resale.