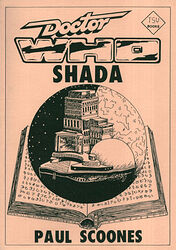 Edition:
New Zealand (2nd paperback)
Released:
October 1991

Publisher:
TSV Books
Format:
paperback
Owned:
Note: Completely rewritten compared to the first edition (hence Jon Preddle is no longer credited as co-author).
Cover blurb:
On a remote space station called Think Tank, the evil Skagra steals the minds of his colleagues and departs for Earth, where the Doctor and Romana are visiting an old friend, Professor Chronotis, at St Cedd's College, Cambridge.
An ancient Gallifreyan book with mysterious properties is Skagra's goal, and the Doctor's failure to prevent him taking it is compounded by Skagra's abduction of not only Romana and the TARDIS, but also the Professor's mind...
All this, however, is just part of Skagra's master plan, the outcome of which will affect all life in the Universe. The key to its success is Salyavin, a notorious Time Lord criminal whose location has been kept secret for centuries.
Aided by his servants, the Krangs, Skagra goes in search of Salyavin on a long forgotten Time Lord prison planet called Shada...
This is a novelisation of a unique Doctor Who story: a BBC strike in 1979 left SHADA half complete, and it has never been shown on television.