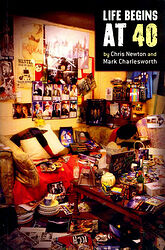 Note: Followed by Behind the Sofa. Extracts available at www.peteandjeff.blogspot.com
Cover blurb:
Two thirty-something Doctor Who fanatics sharing a flat in Blackpool, out of pocket, out of luck and clinging to the hope that Life Begins at 40...
Jeff is a barman, constantly forestalling marriage to his neurotic new-age girlfriend, preferring the company of Pete, an agoraphobic misfit with some serious baggage. United by their social detachment and love of Doctor Who, their world view is tainted by too much cult TV, and the walls between reality and fantasy begin to blur, with hilariously disastrous consequences.
With middle-age fast approaching, can they really spend the rest of their lives hiding behind the sofa? 'Life Begins at 40' deals with the big questions. Should we get married? Are children a good idea? And, in the future, will we all be walking around with one eye and no arms from too much teleporting?
With a foreword by Sophie Aldred, 'Life Begins at 40' is hilarious and essential reading for any Doctor Who fan, and for anyone who sees middle age looming.