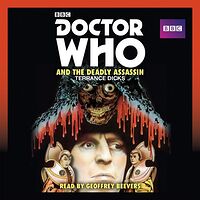 Note: Audio reading of Terrance Dicks' 1977 novelisation.
Cover blurb:
Geoffrey Beevers reads this exciting novelisation of a classic TV adventure for the Fourth Doctor
The Doctor is suddenly summoned to Gallifrey, the home of the Time Lords, where his ghastly hallucinations of the President's assassination seem to turn into reality. When the Doctor is arrested for the murder, a hideous, dark, cowled figure is gleefully watching in the shadows.
In a battle of minds, the Doctor faces renegade Time Lord the Master, inside a nightmare world created by his old enemy's imagination. But the Master's evil intentions go much further — he has a Doomsday Plan. It is up to the Doctor to prevent him from destroying Gallifrey and taking over the Universe!
Geoffrey Beevers, who played an incarnation of the Master in the BBC TV series, reads Terrance Dicks's complete and unabridged novelisation, first published by Target Books in 1977.