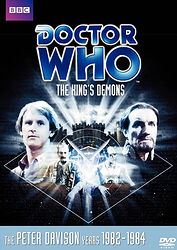 Note: Only released separately in the US. In the UK & Australia, this story was released as part of the Kamelion Tales box set instead.
Cover blurb:
England, March 1215. King John is visiting the castle of Sir Ranulph Fitzwilliam. The arrival of the TARDIS disturbs a medieval joust, but the Doctor and his companions are proclaimed to be friendly demons by the King, who seems strangely interested in their "blue engine."
It soon becomes clear that neither King John or his Champion, Sir Gilles Estram, are who they pretend to be. One of the Doctor's oldest and deadliest enemies threatens the future of democracy on Earth, and he must be stopped!
DVD EXTRAS:
Audio Commentary by actors Peter Davison (the Doctor) and Isla Blair (Isabella) and script editor Eric Saward
Bonus commentary by director Tony Virgo on Part One only
Kamelion — Metal Man Short history of the Doctor's robotic companion, with Peter Davison, Nicola Bryant (Peri), Eric Saward and co-creator Chris Padmore
Magna Carta Historical background (22 mins)
Photo gallery (6 mins)
Isolated Music Score
Production Note Option
PDF materials (DVD-Rom — PC/Mac): Radio Times listings
Digitally remastered picture and sound quality
Originally transmitted March 15-16, 1983