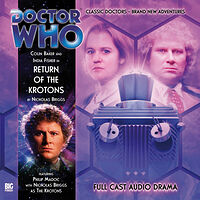 Note: This CD was originally given away free as a special bonus to Big Finish subscribers in late 2008 but subsequently made available for anyone to purchase (in limited quantities).
Cover blurb:
The dead planet Onyakis is being plundered by the last survivors of the human race, and their leader, Commander Cobden, will stop at nothing to get what he wants. Already there are rumours of those who stand against him mysteriously disappearing. But when the Doctor and Charley find themselves on the side of those trying to expose Cobden, they discover something far more sinister.
Deep in the mines of Onyakis, alien technology is reactivating. Power is flowing. Something is forming in the darkness.