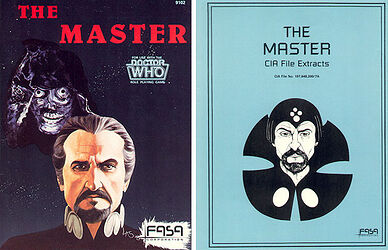 Note: A pair of books originally sold together — though in the second-hand market, they will usually be found separately. Both books are RPG modules, containing supplemental adventures & character information for use with The Doctor Who Role Playing Game.
Cover blurb:
According to CIA studies and reports, the renegade Time Lord known as The Master is one of the most disruptive forces in the whole time-space continuum. It is now believed that the real goal of all The Master's schemes and operations is to take supreme power in the universe by altering the face of history.
The enclosed data entries and reports provide operatives and interested or affected parties new and detailed information on The Master's activities, abilities, characteristics, accomplices and special foes, preferred equipment, and possible locations for future operations.
• Introduction • The Master's Activities • CIA File Extracts • Equipment • Overview Of The Master's Background • Dealing With The Master • Psychological Profile • Disguises And Deceptions
The Master is to be considered extremely dangerous and agents are advised to report any contact at once and then wait for reinforcements.