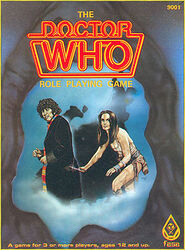 Edition:
US (1st)
Released:
January 1985

Publisher:
FASA
ISBN:
0-931787-90-4
Format:
Book (Unknown / other)
Owned:
Buy:

| | | |
| --- | --- | --- |
| | | (Not currently available) |

| | | |
| --- | --- | --- |
| | | (Not currently available) |
Cover blurb:
The Master has stolen a weapon that will give him ultimate control of the universe and of time itself. The Daleks are invading Earth. The Cybermen are terrorizing the space lanes. And The Sontarans and Rutans are battling to see who wins the galaxy.
Only YOU, the Time Lords and Companions of The Celestial Intervention Agency, can stop these villains from changing the course of history. Your weapons are your wits and your TARDIS. To join the Doctor in his adventure to defeat the foes of the universe, you only need your imagination, a pencil, some paper, and this game!
Included are the following:
The Player's Manual
Rules for creating characters
Rules for play:

Ability and skill use
Tactical movement
Combat

Glossary of game terms
Game Operations Manual
Suggestions on creating adventures
Hints for adventure presentation
Gamemaster information on creating:

Characters and villains
New worlds
Alien creatures

Rules for judging:

Player actions
Time Travel
TARDIS and equipment use
Sourcebook For Field Operatives
Time Traveller's Handbook
TARDIS Operator's Manual
Visitor's Guide to Gallifrey
Equipment Descriptions
Background information on:

The Doctor and his companions
The Master
The Daleks, Cybermen, Sontarans
And more...