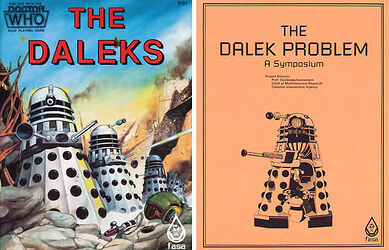 Note: A pair of books originally sold together — though in the second-hand market usually found separately. Both books are RPG modules, containing supplemental adventures & character information for use with The Doctor Who Role Playing Game.
Cover blurb:
EXTERMINATE... EXTERMINATE... The metallic voice that screeches these words sends loathing into the heart of every Time Lord. For no matter where or when you are, the DALEKS can, and probably will, show up to not only ruin your day, but EXTERMINATE thousands of helpless creatures. They will stop at nothing in their never-ending quest for galactic supremacy. No act is too low or plan too outrageous for the Daleks to consider.
These volumes present the definitive work on the Daleks, compiled by Professor Qualenawtivanastech, the Celestial Intervention Agency expert on the subject. More than 80 years of research and the work of more than 140 Time Lords are represented here.
• Dalek Physiology • Dalek Society • Mechanical Function • The Dalek Personality • Time Line of Dalek History • The Dalek Military Machine • Origins of the Daleks • Complete Technical Information • Dalek Expansion