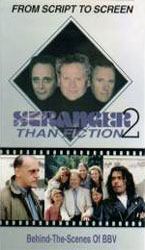 Note: Sequel to Stranger Than Fiction. Was re-released in 1996 as an "extra" on Ghosts of Winterborne, and again in 2000 as a video double-pack with The Stranger: Breach of the Peace. A follow-up Stranger Than Fiction 3 was also produced, but this was never released on its own — instead only available as an "extra" on The Zero Imperative VHS, then later split into 2 parts and released as extras on the DVDs Unnatural Selection and Ghosts of Winterborne.
Cover blurb:
In the second "Stranger Than Fiction" documentary, Mark Gatiss explores the three latest BBV productions; "The Terror Game", "Breach of the Peace" and "The Zero Imperative", from the writers perspective.
Using behind-the-scenes Hi-8 footage, outtakes and interviews with Colin Baker, Jon Pertwee, Sylvester McCoy and Nick Briggs, this fascinating documentary examines the script from initial beginnings, through character and narrative development to its eventual realisation on the screen.