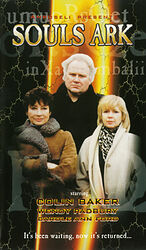 Edition:
US (VHS)
Title:
Souls Ark
Released:
April 2000 (Exact date unconfirmed)

Publisher:
Ministry of Sound and Vision
Format:
1 x VHS NTSC
Owned:
Buy:
Note: This US version omits the apostrophe from the title. But we'll let them away with it since the cover design is so much nicer than the UK version!
Cover blurb:
U.S. Distribution provided by MINISTRY OF SOUND AND VISION
When people start mysteriously disappearing after a sarcophagus is discovered and opened at the site of an ancient British Encampment, tensions become high between the archaeologists.
Is someone's secret agenda being played out?
STELLA GRANT (Carole Ann Ford) has her suspicions which she hardly dare share with her agents, so when they too start vanishing, she assigns HAYDEN GALICO (Colin Baker) and MINA KEEL (Wendy Padbury) to investigate the dig and the apparently unconnected series of events.
Somewhere — after an absence of centuries — SOMETHING has returned, with unfinished business. And there is much more than the lives of those at the dig at stake...
FUTURE SERIES RELEASE DATES and FILMING INFORMATION PLUS ALL OFFICIAL NEWS ON YOUR FAVOURITE DR. WHO STARS
at www.allworldart.com