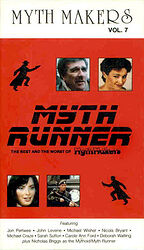 Edition:
US (VHS)
Title:
Myth Makers Vol. 7: Myth Runner - The Best and the Worst of Myth Makers
Released:
January 1989

Publisher:
Pleiades Home Entertainment
Format:
1 x VHS NTSC
Owned:
Buy:
Note: This was the seventh of 17 Myth Makers videos re-released in the US, which confusingly followed a different numbering scheme to the original British releases (typified by this release — since in the UK, Myth Runner wasn't even part of the numbered Myth Makers series).
Cover blurb:
It is the future.
Celebrity interviews have been banned.
Some one is killing DOCTOR WHO stars by subjecting them to interviews so insidious, so inane that only Nicholas Briggs, the MYTH RUNNER, can stop him.
Will Briggs stop the host from hell?
Can the stars stomach the stupidity?
Is Nick Briggs really a 'balding git'?
Find out in MYTH RUNNER, the best and worst of the MYTH MAKERS series. Out takes and new footage of your favorite 'DOCTOR WHO' stars makes this a collector's item not to be missed!
SPECIAL GUEST APPEARANCE by JON PERTWEE
WHAT THE CRITICS SAY:
"A MASTERPIECE OF MODERN DAY VIDEO WORK"
— Nicholas Briggs
"NICHOLAS BRIGGS IS MAGNIFICENT!"
— Someone who looks a great deal like Nick Briggs, but swears he isn't
"I HAVEN'T SEEN IT"
— Ronald Reagan
"I WAS NOT THE MYTHOID!"
— Dan Quayle
"POTTY"
— Ian Tuppen, age 2½