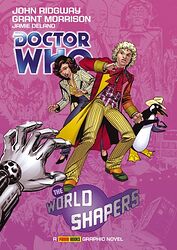 Description: Following Voyager, this is a second graphic novel containing reprints of Sixth Doctor comic strips from mid-1980s issues of Doctor Who Magazine.
Cover blurb:
THE COMPLETE SIXTH DOCTOR COMIC STRIPS VOLUME TWO
CLASSIC COMIC STRIPS FROM THE PAGES OF DOCTOR WHO MAGAZINE!
More thrilling adventures in time and space for the Sixth Doctor, Peri and their penguin pal Frobisher in this concluding volume of their complete comic strip run from the pages of Doctor Who Magazine!
This book features the following digitally restored stories, reprinted in their original episodic format for the first time: EXODUS, REVELATION!, GENESIS!, NATURE OF THE BEAST, TIME BOMB, SALAD DAZE, CHANGES, PROFITS OF DOOM!, THE GIFT and THE WORLD SHAPERS!
These incredible escapades take our heroes from a world invaded by the terrible Cybermen to a planet obsessed with jazz, via a surreal journey to the heart of the TARDIS itself. But it is on the planet Marinus, a world the Doctor once visited long ago, that he faces his greatest peril — one that even the all-powerful Time Lords refuse to aid him in combating...
Featuring stunning artwork from JOHN RIDGWAY plus scripts from the legendary GRANT MORRISON (Batman: Arkham Asylum, Doom Patrol, The Invisibles), JAMIE DELANO (Hellblazer), SIMON FURMAN (Transformers), MIKE COLLINS (Star Trek) and ALAN McKENZIE (2000 AD).
AN ESSENTIAL COLLECTION FOR FANS OF DOCTOR WHO AND CLASSIC BRITISH COMICS!