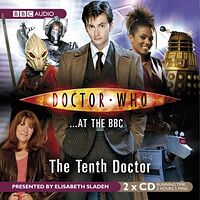 Note: Subsequently re-released as part of the 50 Years of Doctor Who at the BBC box set.
Cover blurb:
Elisabeth Sladen presents an exciting collection of interviews and behind-the-scenes features from the hit BBC One series starring David Tennant
The actress behind the much-loved Sarah Jane Smith is your guide through this exciting, surprising and often funny mix of radio and TV features, all based around the worlds of contemporary Doctor Who.
Travel behind the scenes in the company of David Tennant, Billie Piper, Freema Agyeman, Catherine Tate, Sarah Parish, Jessica Hynes, Thomas Sangster and many other stars of Series Two and Three.
Learn more about how Doctor Who is made from Russell T Davies, Susie Liggat and Edward Thomas — and eavesdrop on an unusual phone call to Executive Producer Julie Gardner!
Along the way you'll enjoy many fascinating Doctor Who-related items from Blue Peter, Breakfast, Friday Night With Jonathan Ross, Front Row and Jo Whiley Meets Doctor Who, plus a host of extracts from BBC Radio Wales's very own Doctor Who - Back In Time series!
With laughter from the Dead Ringers and I'm Sorry I Haven't a Clue teams thrown in, and a bonus peek at The Sarah Jane Adventures, this exclusive CD is guaranteed to provide two hours of enjoyment for Doctor Who fans young, old and in-between!