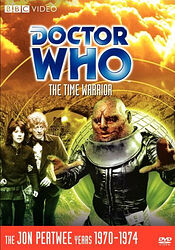 Edition:
US (DVD)
Released:
April 2008

Publisher:
BBC Video
Format:
1 x DVD
Owned:
Buy:
Cover blurb:
Available complete and uncut for the very first time on DVD!
The Doctor is called in by UNIT to investigate when a number of scientists go missing from a top security institute. Following the kidnappings back in time to the Middle Ages, he is unaware that investigative journalist Sarah Jane Smith has stowed aboard the TARDIS.
As events unfold, the Doctor discovers a sinister alien, intent on altering the future of mankind...
DVD EXTRAS INCLUDE:
Commentary by Elisabeth Sladen (Sarah Jane Smith), Barry Letts (Producer) and Terrance Dicks (Script Editor)
Beginning the EndThe cast and crew of The Time Warrior look back on the making of this story, in this newly produced documentary. Featuring Elisabeth Sladen, Donald Pelmear (Rubeish), Jeremy Bulloch (Hal), Barry Letts, Terrance Dicks and Keith Cheetham (designer)
CGI Effects Choose to watch the story with some of the original effects replaced by 16 new CGI sequences
Continuity Compilation A selection of off-air continuity announcements for the original BBC transmission of The Time Warrior
The Doctor Who Annual 1974 (DVD-ROM PC / Mac)
Radio Times Billings Original listings from Radio Times (DVD-ROM PC / Mac)
Photo Gallery
Production Subtitles
Digitally remastered picture and sound quality
Originally transmitted December 15, 1973 - January 5, 1974.