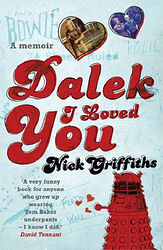 Edition:
UK (paperback)
Released:
April 2008

Publisher:
Gollancz
ISBN:
978-0-575-08219-9
Format:
paperback
Owned:
Buy:
Note: Contains two additional chapters not in the hardback edition.
Cover blurb:
'My name is Nick and I am a Doctor Who fan. Don't let that put you off me, if you're not Who-inclined. I also love David Bowie, Interpol, Boards of Canada, Godspeed You Black Emperor and swathes of electronica. I'm a Tottenham Hotspur season-ticket holder, so I do get out. I don't own any black T-shirts with rubbery sci-fi logos that smear when ironed — actually, I would never iron T-shirts, or any type of clothing frankly — nor do I wear an outsized, multi-coloured scarf.'
Dalek I Loved You is the hilarious and touching memoir of a love affair, of a life lived with the Doctor. It is also an evocative memoir of a 1970s childhood, and (it gets worse) of being a teenager and a student in the 1980s and (wait for it) a music journalist in the 1990s.
Updated for the paperback with a new chapter on the latest series of Doctor Who and a chapter by Dylan Griffiths (aged 12) on life with a Doctor Who geek for a dad.
'Awfully charming... chatty, self-deprecating... disarming'
THE GUARDIAN
'Wit and warmth and a strong line in observational humour... you really feel for him'
DAILY MAIL
'An unadulterated nostalgia-fest, writted with fun, wit and love'
DOCTOR WHO MAGAZINE
'He conjures up just how mind-blowing it was for an ordinary suburban kid to be transported to a realm of danger and rampant sci-fi imaginings'
FINANCIAL TIMES