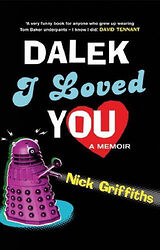 Edition:
UK (hardback)
Released:
April 2007

Publisher:
Gollancz
ISBN:
978-0-575-07940-3
Format:
hardback
Owned:
Buy:
Cover blurb:
My name is Nick
and I am a Doctor Who fan.
Don't let that put you off me, if you're not Who-inclined. I also love David Bowie, Interpol, Boards of Canada, Godspeed You Black Emperor and swathes of electronica. I'm a Tottenham Hotspur season-ticket holder, so I do get out. I don't own any black T-shirts with rubbery sci-fi logos that smear when ironed — actually, I would never iron T-shirts, or any type of clothing frankly — nor do I wear an outsized, multi-coloured scarf.

Nick Griffiths watched his first Doctor Who (Spearhead from Space, broadcast January 1970, Jon Pertwee's debut as the Doctor . . . just in case you're interested) aged four and a bit. He would have hidden behind the sofa but it was back against the wall and moving the furniture around was frowned on by his parents, so he hid behind his Dad's armchair instead.
And so began a life-long obsession. Those stories! More to the point, those titles . . . The Green Death, The Claws of Axos, The Daemons, Planet of the Daleks, Pyramids of Mars, The Talons of Weng Chiang. And the monsters! The Silurians, the Axons, the Sea Devils, the Draconians, the Ogrons, the Daleks (naturally).
Of course there were other TV programmes to watch (but would you read the memoirs of a life-long fan of Mary, Mungo and Midge?). And when the telly was off there were Airfix models™ and Action Man™. But basically, it was Doctor Who. It was a bit of a body blow when Jon Pertwee was replaced by Tom Baker but soon enough Nick, like everyone else (except his Mum who thought Baker was 'a bit silly'), began to worship at the altar of Baker's eccentricity. Those were the glory days of Doctor Who. Or is that just how we remember them?
DALEK I LOVED YOU is the hilarious and touching memoir of a love affair, of a life lived with the Doctor. It is also an evocative memoir of a 1970s childhood and (it gets worse) of being a teenager and a student in the 1980s and (wait for it) a music journalist in the 1990s.
Only in the last few years has an anti-social hobby become something he can earn a living from as a journalist, and happily this has coincided with Doctor Who getting really rather good again. If there is anyone out there who hasn't succumbed to the charms of David Tennant, Nick can always tell them he's only watching to keep his 12 year-old son company. Oh, and the boy's called Dylan, not Gallifrey or Davros.