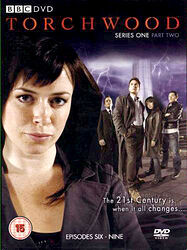 Edition:
UK (DVD)
Released:
February 2007

Publisher:
BBC Video
Format:
2 x DVD
Owned:
Buy:
Cover blurb:
"The 21st Century is when it all changes and you've got to be ready..." — Captain Jack Harkness
Separate from the government, outside the police, beyond the United Nations: Torchwood sets its own rules. Retrieving alien technology and responding to any extra-terrestrial threat — a meteorite crash landing, discovery of alien weapons, unusual autopsy reports — Torchwood are alien hunters in our world.
Operating from an underground base in Cardiff — built on a rift in time and space - Torchwood is comprised of the enigmatic leader Captain Jack Harkness; resourceful Gwen Cooper, the passion and drive of the team; Owen Harper, young and hedonistic but a brilliant medic; reserved, technical genius Toshiko Sato; and Ianto Jones, a figure far more important than his receptionist's role suggests.
6. Countrycide
Torchwood investigate a series of gruesome deaths in the Brecon Beacons, only to confront a terrifying enemy.
7. Greeks Bearing Gifts
Toshiko is given an alien pendant which enables her to hear other people's thoughts.
8. They Keep Killing Suzie
When the word Torchwood is daubed in blood at a murder scene, the investigation leads back to a familiar face.
9. Random Shoes
When Eugene wakes up to find himself (a) dead and (b) invisible, he knows only Gwen Cooper can Help him.
Special Features:
Torchwood: Sex, Violence, Blood & Gore Featurette
Torchwood: On the Road
Deleted Scenes
Torchwood: The Team and Their Troubles Featurettes