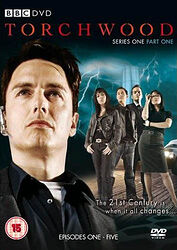 Edition:
UK (DVD)
Released:
December 2006

Publisher:
BBC Video
Format:
2 x DVD
Owned:
Buy:
Cover blurb:
"The 21st Century is when it all changes and you've got to be ready..." — Captain Jack Harkness
Separate from the government, outside the police, beyond the United Nations: Torchwood sets its own rules. Retrieving alien technology and responding to any extra-terrestrial threat — a meteorite crash landing, discovery of alien weapons, unusual autopsy reports — Torchwood are alien hunters in our world.
Operating from an underground base in Cardiff — built on a rift in time and space — Torchwood comprises the enigmatic leader Captain Jack harkness; second-in-command, alien hardware expert Suzie Costello; Owen Harper, young and hedonistic but a brilliant medic; reserved, technical genius Toshiko Sato; and Ianto Jones, a figure far more important than his receptionist's role suggests.
When Gwen Cooper, driven by a burning curiosity, stumbles into their world she discovers a hostile universe of savage aliens and monsters. Has she the courage to leave her ordinary life and join Torchwood's fight against the unknown and the impossible?
1. Everything Changes
A brutal murder leads WPC Gwen Cooper to Torchwood, a journey that will change her life forever.
2. Day One
Torchwood must stop a sex-addicted alien as it leaves a trail of gruesome deaths in its wake.
3. Ghost Machine
An alien object shows visions of the past to the Torchwood team, bringing a long-buried crime to the surface.
4. Cyberwoman
Beneath the Torchwood building, Ianto Jones hides a terrible secret: a half-converted Cyberwoman.
5. Small Worlds
What are the supernatural forces stalking the Cardiff suburbs — and what do they want with the seemingly normal Pierce family?
SPECIAL FEATURES
Welcome to Torchwood
Torchwood on the Scene
Five Torchwood: Out of this World Featurettes
Deleted Scenes