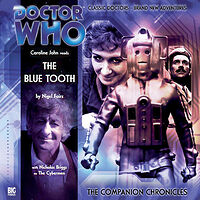 Cover blurb:
A new adventure for the Third Doctor, as read by his companion Liz Shaw.
"I suppose that was one of the Doctor's most endearing qualities: the ability to make the bizarre and the terrifying seem utterly normal."
When Liz Shaw's friend Jean goes missing, the Doctor and UNIT are drawn to the scene to investigate. Soon Liz discovers a potential alien invasion that will have far-reaching affects on her life... and the Doctor finds himself pitted against the Cybermen once again...