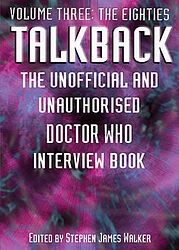 Edition:
UK (1st paperback)
Released:
July 2007

Publisher:
Telos
ISBN:
978-1-84583-014-4
Format:
paperback
Owned:
Buy:
Cover blurb:
This book presents a comprehensive collection of interviews with the people behind the final decade of the BBC's famous science-fiction adventure series. Stars, production team members, directors, writers and designers, all are featured in this latest addition to Telos' acclaimed range of factual books about Doctor Who.
In this third volume of the "Talkback" series, Stephen James Walker has assembled an impressive selection of the very best interviews and features relating to the Doctor Who stories of the 1980s.
Those quoted include Doctors Tom Baker, Peter Davison, Colin Baker and Sylvester McCoy, companion actors Matthew Waterhouse, Nicola Bryant, Bonnie Langford and Sophie Aldred, producer John Nathan-Turner, script editors Antony Root and Andrew Cartmel, director Alan Wareing, writer Marc Platt, designers Barry Newbery, Malcolm Thornton and Nick Somerville, costume designers Rosalind Ebbutt, Pat Godfrey and Ken Trew, make-up designers Dee Baron and Joan Stribling, title sequence designers Sid Sutton, Gareth Edwards and Oliver Elmes, visual effects designer Malcolm James, and visual effects assistants and contractors Mike Tucker, Susan Moore, Stephen Mansfield and Robert Allsopp.