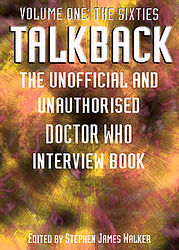 Edition:
UK (1st paperback)
Released:
June 2006

Publisher:
Telos
ISBN:
1-84583-006-7
Format:
paperback
Owned:
Buy:
Cover blurb:
An incredible collection of interviews with the people behind the early years of the BBC's classic science fiction adventure series Doctor Who. From directors to designers, producers, story editors, writers and cast, all are featured in this latest addition to Telos's acclaimed range of factual books about Doctor Who.
This volume includes interviews with creator Sydney Newman; Producers Innes Lloyd and Peter Bryant; Opening Titles Designer Bernard Lodge; Designers Barry Newbery, Raymond P Cusick, John Wood and Paul Allen; Directors Waris Hussein, Christopher Barry, Douglas Camfield, Derek Martinus, Michael Ferguson, Morris Barry and David Maloney; Story Editors Dennis Spooner and Terrance Dicks; Writers Bill Strutton, Donald Cotton, Brian Hayles, Ian Stuart Black, Malcolm Hulke, Derrick Sherwin and Victor Pemberton; Make Up Designer Sylvia James; Costume Designers Martin Baugh and Bobi Bartlett; Actors Peter Purves, Anneke Wills and Shirley Cooklin; and original Fan Club founder Graham Tattersall.
There are also profiles of Cyberman creator Kit Pedler; Story Editor David Whitaker; and Writers John Lucarotti and Terrance Dicks.