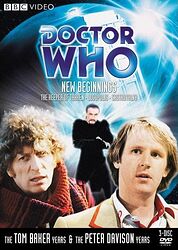 Edition:
US (DVD)
Released:
June 2007

Publisher:
BBC Video
Format:
3 x DVD
Owned:
Buy:
Cover blurb:
As Tom Baker reached the end of his seventh season in Doctor Who, many changes were in store. Romana and K9 remained in E-Space at the end of "Warrior's Gate," while Adric continued to travel with the Doctor. These three stories — "The Keeper of Traken", "Logopolis" and "Castrovalva" — saw the arrival of two more companions, Nyssa and Tegan, and the return of the Doctor's arch-enemy, The Master, as well as the transition from Tom Baker's Doctor to Peter Davison's. Packed with special features, including the only DVD commentary recorded by the late Anthony Ainley and possibly Tom Baker's most enlightening interview to date, this boxed set covers one of the most pivotal times in the show's history.
The Keeper of Traken — (4 eps, 98 mins)
The Doctor and Adric answer a distress call from the Keeper of the tranquil planet of Traken, where a living statue poses a deadly threat.
Logopolis — (4 eps, 98 mins)
The Doctor's plan to enlist the help of Logopolis's mathematicians in repairing the TARDIS's chameleon circuit becomes sidetracked when the Master's interference leads to disaster on a universal scale.
Castrovalva — (4 eps, 96 mins)
The Doctor's regeneration is failing, and his last hope rests with Nyssa and Tegan, who struggle to steer the TARDIS to the remote city of Castrovalva, renowned for its healing powers.
DVD EXTRAS INCLUDE:
Audio Commentary by actors Tom Baker, Peter Davison, Anthony Ainley, Sarah Sutton, Janet Fielding and Matthew Waterhouse, writers Johnny Byrne and Christopher H. Bidmead, and director Fiona Cumming
Being Nice to Each Other — A new 30-minute documentary on the making of The Keeper of Traken
The Return of the Master (8 mins)
Swap Shop — Sarah Sutton interview (11 mins)
A New Body at Last — A new 50-minute regeneration documentary
Nationwide — Interviews with Tom Baker and Peter Davison (8 mins)
Pebble Mill at One — Peter Davison interview (12 mins)
BBC News Reports — Tom Baker's wedding, Tom Baker's departure, Peter Davison's arrival (1 min)
Being Doctor Who — Peter Davison (13 mins)
Directing Castrovalva — Fiona Cumming interview (11 mins)
The Crowded TARDIS (11 mins)
Swap Shop, Blue Peter — Peter Davison interviews (29 mins)
Deleted Castrovalva Scenes (1 min)
Theme Music Video
Music-Only Option
Trailers and Continuity Announcements
DVD-ROM feature 1982 Doctor Who Annual, Radio Times and BBC Enterprises literature PDFs
Production Notes Subtitle Option
Photo Gallery
Digitally remastered picture and sound quality