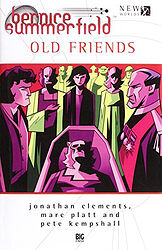 Description: Contains a trio of original Bernice Summerfield novellas by Marc Platt, Jonathan Clements and Pete Kempshall.
Cover blurb:
A collection of novellas written by Jonathan Clements, Marc Platt, and Pete Kempshall
Late 2562. Bernice Summerfield is 22 and en route to the ruin of Earth. She's young, she's single, she's just got an MA in archaeology. There's a life of adventure in front of her.
And then she meets the half-human, half-lemur Ivo, whose life she'll completely knock sideways.
Late 2607. Professor Bernice Summerfield is... well she looks nearly 40, but it's difficult to tell what with all the time travel. She's on her way to a funeral, and to meet up with people she's not seen since her 20s.
Ex-husband/current beau Jason is keen to go with her. Benny never talks about that period of her life — what she did to keep out of the war, where she travelled, how she survived, or who it was broke her heart. She's run through all time and space to avoid this reunion. But the best-selling author of Down Among The Dead Men must finally uncover her own past.

Bernice Surprise Summerfield first appeared in the 1992 novel "Love and War", by acclaimed Doctor Who and Robin Hood writer Paul Cornell. Since then, Benny has starred in more than 120 books, comic strips and full-cast audio dramas.

Contents:
The Ship of Painted Shadows by Marc Platt
Cheating the Reaper by Jonathan Clements
The Soul's Prism by Pete Kempshall