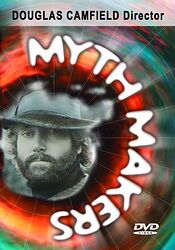 Cover blurb:
"WILLIAM HARTNELL, in my view, is the yardstick by which all other Doctors are judged."
One of the great benefits that filming DOCTOR WHO conventions can bring is, on occasion, an irreplaceable moment in history.
This MYTH MAKERS special features the late DOUGLAS CAMFIELD at the Doctor Who Appreciation Society's PantoptiCon 5, held at The Grand Metropolitan Hotel, Birmingham in 1982.
Interviewed by IAN McLACHLAN, DOUGLAS gives a unique and fascinating interview about the way he directs and his experiences working on DOCTOR WHO.
But that's not all! As a bonus feature we've included the very first convention appearance by SOPHIE ALDRED at PanoptiCon 8... where she talks about having just landed the role of ACE!
SPECIAL FEATURES
Subtitles, Biography and Additional Panel.