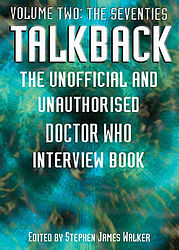 Edition:
UK (1st paperback)
Released:
December 2006

Publisher:
Telos
ISBN:
1-84583-010-5
Format:
paperback
Owned:
Buy:

| | | |
| --- | --- | --- |
| | | (Unable to fetch price) |
Cover blurb:
An incredible collection of interviews with the people behind the middle years of the BBC's classic science fiction adventure series Doctor Who. From directors to designers, producers, story editors, writers and cast, all are featured in this latest addition to Telos's acclaimed range of factual books about Doctor Who.
This volume includes interviews with actors Jon Pertwee (the Doctor), Katy Manning (Jo Grant), Elisabeth Sladen (Sarah Jane Smith), Tom Baker (the Doctor) and Mary Tamm (Romana); producers Derrick Sherwin, Barry Letts, Philip Hinchcliffe and Graham Williams; script editors Terrance Dicks, Robert Holmes, Antony Read and Douglas Adams; directors Michael Ferguson, Douglas Camfield, Christopher Barry and Pennant Roberts; writers Malcolm Hulke, Bob Baker, Brian Hayles and Robert Banks Stewart; costume designers Christine Rawlins, Bobi Bartlett and James Acheson; make up designers Sylvia James and Sandra Exelby; scenic designers Paul Allen and Barry Newbery; opening titles designer Bernard Lodge; and book cover artist Chris Achilleos.
There are also features on the stage play 'Seven Keys to Doomsday', the Doctor's arch enemy the Master, the visual effects of the 1979 story 'Destiny of the Daleks', and fandom in the Seventies.