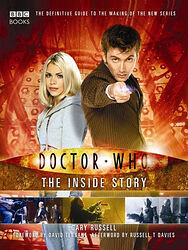 Edition:
UK (hardback)
Released:
October 2006

Publisher:
BBC Books
ISBN:
0-563-48649-X
Format:
hardback
Owned:
Buy:
Cover blurb:
'There is something about the type of imagination that powers Doctor Who that sweeps up viewers and inspires them in unexpected ways. Something about its mix of the fantastic and the mundane, the far-flung with the domestic, that is unlike anything else.' — DAVID TENNANT
The insider's scoop on the how, why, who and where of all things Doctor Who
In March 2005, a 900-year-old alien in a police public call box made a triumphant return to our television screens. With millions of viewers, ecstatic reviews and a string of awards, the new series of Doctor Who is one of the biggest success stories of recent years. Why does it strike such a chord with people, in the UK and around the world? How does it attract an audience that ranges from eight-year-olds to eighty-year-olds, in an age when family viewing was thought to be dead?
The Inside Story takes us behind the scenes to find out how the series was commissioned, made and brought into the twenty-first century. Gary Russell has talked extensively to everyone involved in the show, from the Tenth Doctor himself, David Tennant, and executive producer Russell T Davies, to the people normally hidden inside monster suits or behind cameras. Everyone has an interesting story to tell.
The result is the definitive account of how the new Doctor Who was created. With unparalleled access to design drawings, backstage photographs, costume designs and other previously unpublished pictures, The Inside Story covers the making of all twenty-six episodes of Series One and Two, plus the 2005 Christmas special. Every episode is examined in detail, and there is an exclusive look ahead to 2006's Christmas special and Series Three.
Featuring a wealth of facts and pictures, as well as a Foreword by David Tennant and an Afterword by Russell T Davies, The Inside Story is essential reading for every fan of the new Doctor Who.