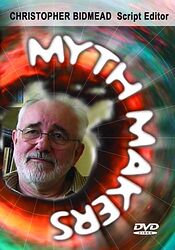 Cover blurb:
"I wanted to make the next DOCTOR WHO which was going to be bigger, better, different, and push the boundaries."
CHRISTOPHER HAMILTON BIDMEAD was born in 1941. He trained as an actor at the Royal Academy of Dramatic Art.
Gradually CHRIS turned to scriptwriting, and in late 1979 he was recommended by ROBERT BANK [sic] STEWART for the post of script editor on DOCTOR WHO, working alongside newly appointed producer JOHN NATHAN-TURNER.
In this MYTH MAKERS, we find out what CHRIS hoped to achieve when he arrived at the production office, the reality he found there, what it was like working with JNT... and why he left the programme after only one year.
SPECIAL FEATURES
Biography and Additional Footage.