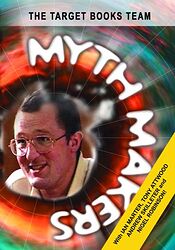 Cover blurb:
One of the great benefits that filming DOCTOR WHO conventions can bring is, on occasion, an irreplaceable moment in history.
This special Myth Makers features the late IAN MARTER with ANDREW SKILLETER, TONY ATWOOD and NIGEL ROBINSON together on stage in a unique interview by GARY RUSSELL at the Doctor Who Appreciation Society's PanoptiCon 7, held at Imperial College, London in 1987. In a fascinating debate they discuss how Target Books was run in the late 1980's, revealing the process that led to novels being commissioned.
But that isn't all! As a bonus feature we've included an interview with CHRIS BOUCHER and JOHNNY BYRNE — two writers with their own unique styles and strong opinions!
A very special Myth Makers.
SPECIAL FEATURES
Biographies and Additional Panel.