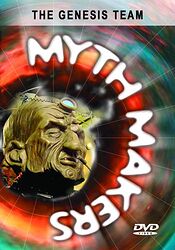 Cover blurb:
One of the great benefits that filming DOCTOR WHO conventions can bring is, on occasion, an irreplaceable moment in history.
At the Doctor Who Appreciation Society's PanoptiCon 9, held at Imperial College, London in 1988, three actors involved in the production of the classic DOCTOR WHO story GENESIS OF THE DALEKS appeared on stage together.
PETER MILES, ROY SKELTON and the late MICHAEL WISHER discuss their careers, DALEKS and the making of this classic story.
Also included in this programme is another exclusive interview with MICHAEL WISHER recorded at the DWAS event WhoCon 21.
All together then a unique MYTH MAKERS, made even more special because we've invited MICHAEL WISHER's son ANDREW to present the programme.
SPECIAL FEATURES
Biographies and Behind-the-Scenes feature.