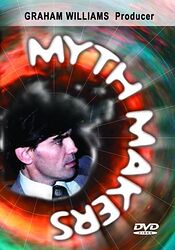 Cover blurb:
One of the great benefits that filming DOCTOR WHO conventions can bring is, on occasion, an irreplaceable moment in history.
At the Doctor Who Appreciation Society's PanoptiCon 6, held in Brighton in July 1985, Gordon Roxburgh interviewed ex-producer GRAHAM WILLIAMS on stage.
GRAHAM followed PHILIP HINCHCLIFFE as producer of DOCTOR WHO and was asked to take the programme away from the dark, dramatic style PHILIP had championed. In this interview, GRAHAM discusses this change and the criticism it generated from fans.
GRAHAM tragically died in a shooting accident in 1990 and this interview is the only one we know of in existance and therefore totally unique. It is our tribute.
But that's not all! As a bonus feature we've included an interview with director CHRIS CLOUGH filmed at PantoptiCon 8 in 1988.
SPECIAL FEATURES
Biographies and Bonus Interview Footage.