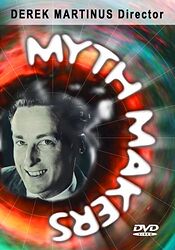 Cover blurb:
"I think PATRICK TROUGHTON (was the best Doctor), he had such a refreshing enthusiasm, he was deeply engaged in it and had a zest for doing it right."
One of the first things DEREK MARTINUS directed for the BBC was the DOCTOR WHO story GALAXY FOUR which was followed by MISSION TO THE UNKNOWN, THE TENTH PLANET, THE EVIL OF THE DALEKS, THE ICE WARRIORS and SPEARHEAD FROM SPACE as well as many other productions, including Z CARS, the Sunday Classic THE BLACK TULIP, episodes of THE DOCTORS, UNITED!, ANGELS and Henry James' WHAT MAISIE KNEW.
In the mid-seventies he left the BBC to go freelance and continued a successful career working as a director in the theatre and television.
In this MYTH MAKERS, DEREK chats about DOCTOR WHO, CYBERMEN, ICE WARRIORS, working with three DOCTORS and his growing frustration about working on the programme when he wasn't allowed to do other things!
Another fascinating MYTH MAKERS interview!
SPECIAL FEATURES
Biography and Behind-the-Scenes Material.