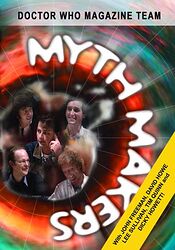 Cover blurb:
One of the great benefits that filming DOCTOR WHO conventions can bring is, on occasion, an irreplaceable moment in history.
This special Myth Makers features JOHN FREEMAN, DAVID J HOWE, TIM QUINN, DICKY HOWLETT and LEE SULLIVAN together on stage in a unique interview at the Doctor Who Appreciation Society's PanoptiCon 9, held at Imperial College, London in 1989.
In a sometimes risque, but funny, panel we find out where TIM and DICKY got inspiration for their cartoons from and the sometimes hilarious letters DAVID received for The Matrix Data Bank.
But that isn't all! As a bonus feature we've included an interview by NICK BRIGGS with PHILIP MARTIN and DICK MILLS — two people you wouldn't normally expect to see together on stage!
A very special Myth Makers.
SPECIAL FEATURES
Biographies and Additional Panel.