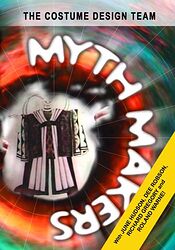 Cover blurb:
One of the great benefits that filming DOCTOR WHO conventions can bring is, on occasion, an irreplaceable moment in history.
This Myth Makers special features RICHARD GREGORY, JUNE HUDSON, DEE ROBSON and ROLAND WARNE brought together on stage in a unique interview by GARY RUSSELL at the Doctor Who Appreciation Society's PanoptiCon 8, held at Imperial College, London in 1988. Together they discuss the close relationship costume and effects designers have to maintain to bring aliens and monsters to the screen.
But that's not all! As a bonus feature we've included an interview with GRAEME HARPER from PanoptiCon 7 in 1986, just after he had won his second "best story" director's award from the DWAS.
A very special Myth Makers.
SPECIAL FEATURES
Biographies and Additional Interview.