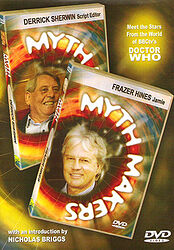 Note: DVD re-release of two interviews that were originally released separately on VHS: Myth Makers: Frazer Hines and Myth Makers: Derrick Sherwin. The Frazer Hines interview was later re-released as part of The Doctors: The Pat Troughton Years.
Cover blurb:
DOUBLE THE VALUE!
FRAZER HINES — Jamie McCrimmon
"I think the Cybermen to me were horrific because there was no emotion... like a psychopathic killer who smiles at you thinking, 'I'm going to kill you!"
FRAZER HINES is one of the most well-known and popular actors to have appeared on television, best known for his roles as JOE SUGDEN in EMMERDALE and his three year stint as JAMIE McCRIMMON in DOCTOR WHO.
From his former home in Yorkshire, FRAZER chats to NICHOLAS BRIGGS about his long and successful career and discusses his other great passion — horses.
Together with exclusive 8mm film shot on a DOCTOR WHO location by FRAZER and his own personal Doctor Who Digest... dare you miss this MYTH MAKERS?
DERRICK SHERWIN — Script Editor & Producer
"I'd like to see UNIT develop into something quite substantial."
DERRICK SHERWIN joined the DOCTOR WHO production office during the latter days of PATRICK TROUGHTON's tenure as the second Doctor.
As Story Editor, Script Editor and eventually Producer, he became deeply involved in the planning of the changeover from PATRICK to JON PERTWEE — the third Doctor.
In this fascinating MYTH MAKERS, NICHOLAS BRIGGS uncovers the quite detailed planning that went into the changeover, the creation of UNIT and the fact that the switch to Earthbound stories would have gone ahead even if PATRICK had stayed!
SPECIAL FEATURES
Introduction by NICHOLAS BRIGGS and KEITH BARNFATHER.
Biography of all featured artists.