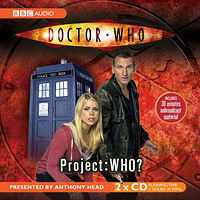 Note: CD release of the 2005 BBC radio documentary which covered the debut of the new Doctor Who series, including 30 minutes of unbroadcast material. Subsequently re-released as part of the 50 Years of Doctor Who at the BBC box set.
Cover blurb:
Project: Who? goes exclusively behind the scenes of Doctor Who to discover how the action-packed new BBC1 series has been made, with award-winning writer and executive producer Russell T Davies at the helm.
Featuring new and exclusive interviews with the cast and creative team, the programme examines why the BBC decided to launch the new television series now, nearly a decade after the Doctor's last small screen adventure. It also explores how the format of the show has been developed for a new audience, how the character of the Doctor was cast, and how his adventures will be launched and marketed around the globe.
Christopher Eccleston and Billie Piper — who play the Doctor and Rose — talk about their experiences on the new series, along with executive producers Julie Gardner and Mal Young, writer and executive producer Russell T Davies, writer Mark Gatiss, director Joe Ahearne, producer Phil Collinson and many others.
Anthony Head, of Buffy the Vampire Slayer fame, presents this fascinating journey into the exciting dimensions of Doctor Who. This CD version also contains an additional 30 minutes of material not included in the BBC Radio 2 broadcast.