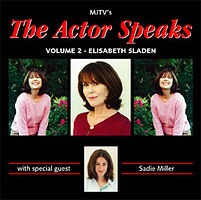 Note: Volume 2 of The Actor Speaks interview CD series. Volumes 1, 3 and 4 feature Blake's 7 actors (Gareth Thomas, Jacqueline Pearce and Paul Darrow respectively) so are not featured on this site — however Volume 5 features Louise Jameson (Leela).
Cover blurb:

Interview — Whatever happened to Sarah Jane Smith?
Elisabeth Sladen gives her thoughts on all aspects of Dr. Who's Sarah post 'Hand of Fear' to present day.
Anne-1 'Out Tonight' by Mark J. Thompson
Lis plays Liverpudlian 'Anne' in two amusing monologues.
Peek Into Private 1 — Six Photos
Lis shares memories of six exclusive black & white photos from her private life.
'The Virgin' by Sadie Miller Narrated by Elisabeth Sladen
A wry poem, one of two fascinating pieces, by Lis' daughter Sadie
Interview with Sadie
'Was Wenn' by Sadie Miller Narrated by Elisabeth Sladen
Nazi's dominate England, in an alternative present day...
Anne-2 'On-Line' by Mark J. Thompson
Anne dates on-line aided by a part-time clown and a lady with 22 piercings.
Peek Into Private 2 — The Poem
Lis shares memories of a poem written for her in 1978.
Interview with Elisabeth Sladen & Mark J Thompson
Hear about the background to the CD's form and content
'Soldiers of Love' advert Narrated by Elisabeth Sladen
A trailer for MJTV's comedy drama sci-fi audio CD series!