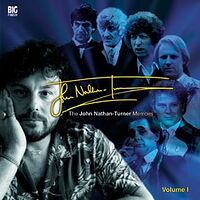 Note: Followed by Volume II. Subsequently, both volumes were re-released in a combined box set.
Cover blurb:
Volume I
1969 — 1985
Between 1980 and 1989, John Nathan-Turner produced over 130 episodes of BBC TV's award-winning science-fiction series Doctor Who, and was responsible for casting three of the actors who played the Doctor.
His long association with the programme began during Patrick Troughton's era, continuing with Jon Pertwee and Tom Baker, when he became Doctor Who's ninth producer. Now, for the very first time, John discusses frankly, and in depth, his many years' involvement with a series of which he is enormously fond and proud.
This then, is his story. Packed with a multitude of anecdotes and memories, this special release offers a unique point-of-view of the sometimes difficult, frequently bizarre but always worthwhile business of entertaining the Doctor's millions of loyal fans.