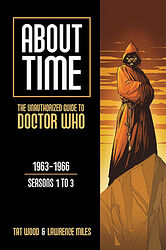 Cover blurb:
...the unauthorized & ambitiously definitive guide to Who...
The machine-creature that rises from the Thames, turning the nation's favourite monsters into an unstoppable legend. The planet of insect-people, where the rivers are acid and the butterflies talk in sign language. The monk who watches from the clifftop and knows far, far too much for someone from 1066...
These aren't just the greatest, strangest or most Doctor-Who-like moments in Doctor Who. These are the moments that make up an era, part of a universe of things we'd never seen before and never expected. And this is the all-purpose handbook to that universe, both on- and off-screen. Contained within these volumes is everything you could reasonably want to know about the original series of Doctor Who, from the nuances of Cyberman culture to the science of the Eye of Harmony, from the programme's most triumphant successes to its most bizarre logical flaws, from its roots in the BBC of the 1960s to its legacy in the here and now.
But above all else, this is a history. A history of the Doctor Who continuum; a history of the way the series changed across the span of a generation; and a history of those who grew up with it, of what it meant to the children of the '60s, '70s and '80s.
This is, in a very real sense, About Time.
Written by Tat Wood (Dreamwatch, SFX) and Lawrence Miles (Faction Paradox), About Time Volume I dissects Doctor Who Seasons 1 to 3 — the show's very origins, starring William Hartnell as the Doctor. Among other things, this book strives to answer such vitally important questions as "What's the Dalek Timeline?", "What Kind of Future Did We Expect?" and "Are Steven and Dodo Related?".