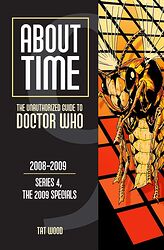 Note: Like the other books in the About Time series, this book provides an in-depth dissection of a particular era of Doctor Who. This volume covers Series 4 of the new series, broadcast in 2008, plus the 2009 specials. Despite the late April launch date, copies started appearing in some retailers from mid-March onwards.
Cover blurb:
...the unauthorized and ambitiously definitive guide to Who...
Skeletons in spacesuits, in a deserted library the size of a planet. A close encounter with a million cute little doughboys made of human fat. The Master pops back for Christmas dinner and he doesn't just think he's everybody, he literally is...
These aren't just the greatest, strangest or most Doctor-Who-like moments in Doctor Who. These are the moments that make up an era, part of a universe of things we'd never seen before and never expected. And this is the all-purpose handbook to that universe, both on- and off-screen. Contained within these volumes is everything you could reasonably want to know about the original series of Doctor Who, from the nuances of Cyberman culture to the science of the Eye of Harmony, from the programme's most triumphant successes to its most bizarre logical flaws, from its roots in the 1960s to its legacy in the here and now.
But above all else, this is a history. A history of the Doctor Who continuum; a history of the way the series changed across the span of a generation; and a history of those who grew up with it, of what it meant to the children of the '60s, '70s and '80s and more.
This is, in a very real sense, About Time.
Written by Tat Wood and Dorothy Ail, About Time Volume IX dissects Doctor Who Series 4 and the 2009 Specials (the end of David Tennant's tenure), as well [sic] "The Music of the Spheres", The Sarah Jane Adventures story "The Wedding of Sarah Jane Smith" and "Dreamland". Among other things, this book strives to answer such vitally important questions as "Was there a Martian Time-Slip?", "How Can Anyone Know About the Time War?", and "Why Can't Anyone Just Die?".