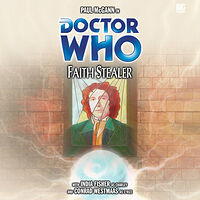 Cover blurb:
When the Doctor, Charley and C'rizz find their journey through the Interzone interrupted by a nightmarish vision, they are surprised to find the Kro'ka offering the perfect solution.
The Multihaven — a vast array of religions and faiths housed in one harmonious community — appears to offer the perfect sanctuary in which to convalesce. But under the guidance of the charismatic Laan Carder, one religion seems to be gathering disciples at an alarming rate.
With the Doctor and Charley catching glimpses of an old friend and C'rizz on the receiving end of some unorthodox religious practices, their belief, hope and faith are about to be tested to the limit.
It¹s time to see the light.
This story takes place after the TV movie.