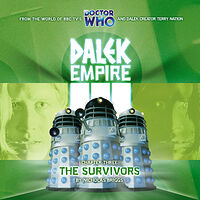 Cover blurb:
ASTOUNDING STORIES OF THE RETURN OF THE OUTER-SPACE ROBOT PEOPLE CREATED BY TERRY NATION
"The Daleks wish only to... help you."
Stilll, the Galactic Union are blissfully unaware of the Dalek threat. And in the Border Worlds, the Daleks appear to be helping to cure the deadly NFS plague which has claimed millions of lives.
Only the Graxis Wardens know the truth about the Daleks... And they have all been wiped out.
The Daleks are beginning to show their true colouts, but now it may be too late to stop them.