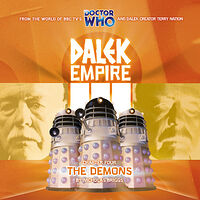 Cover blurb:
ASTOUNDING STORIES OF THE RETURN OF THE OUTER-SPACE ROBOT PEOPLE CREATED BY TERRY NATION
"The Daleks created... me?"
The Galactic Union now knows of Galanar's covert mission to find the Daleks. But what exactly has Galanar found? The Daleks seem poised to eradicate the deadly NFS plague.
The Graxis Wardens are adrift in Dalek territory, hopelessly outnumbered.
It would seem that the future belongs to the Dalek Supreme.