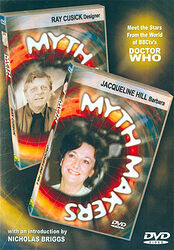 Note: DVD re-release of two interviews that were originally released separately on VHS: Myth Makers: Jacqueline Hill and Myth Makers: Ray Cusick. Both parts were later re-released separately: the Jacqueline Hill interview as part of The Doctors: The Hartnell Years, and the Ray Cusick interview as part of The Doctors: Monsters!
Cover blurb:
DOUBLE THE VALUE!
JACQUELINE HILL — Barbara Wright
"I preferred doing it like a play... the modern ones are better, but I prefer the way we did it."
Those who worked with her fondly remember JACQUELINE HILL as a kind and generous colleague. She had a long and varied career and as BARBARA WRIGHT she played one of the original TARDIS crew who put DOCTOR WHO firmly on the road to success.
We talk to CAROLE ANN FORD, WILLIAM RUSSELL, MAUREEN O'BRIEN, VERITY LAMBERT and JACQUELINE's husband ALVIN RAKOFF about a remarkable woman.
We also feature rare footage of JACQUELINE at DWAS SOCIAL 5 held in 1985.
RAY CUSICK — Designer
"'Morning Verity, I've got one Dalek'... We wheeled it in and I was waiting for their reaction... and they loved it!"
If there was one designer who contributed most to the early success of DOCTOR WHO it was surely RAYMOND CUSICK. RAY worked on ten DOCTOR WHO stories and created some of the most stunning designs ever seen in the series.
NICHOLAS BRIGGS chats to RAY about his career and uncovers the creative talent that gave us such classic monsters as the DALEKS and MECHANOIDS!
SPECIAL FEATURES
Introduction by NICHOLAS BRIGGS and KEITH BARNFATHER.
Biography of both featured artists.