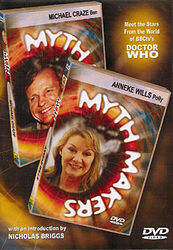 Note: DVD re-release of two interviews that were originally released separately on VHS: Myth Makers: Anneke Wills and Myth Makers: Michael Craze. Both interviews were later re-released as part of The Doctors: The Pat Troughton Years.
Cover blurb:
DOUBLE THE VALUE!
ANNEKE WILLS - Polly
"Maybe there's another adventure around the corner, I don't know... and this is directly because of DOCTOR WHO... it's been part of my life!"
The South Pole, the Moon, Atlantis and even Gatwick Airport are just some of the places visited by POLLY, the archetypal DOCTOR WHO dolly-bird.
ANNEKE WILLS is almost as well travelled as the character she portrayed. NICHOLAS BRIGGS managed to catch up with her in Norfolk to talk about the past as ANNEKE begins a new chapter in her life.
MICHAEL CRAZE - Ben
"I wanted to go out with a bang. I would have preferred Ben to have been killed off."
MICHAEL CRAZE was present during a crucial period in DOCTOR WHO's history. If the first change of Doctor from WILLIAM HARTNELL to PATRICK TROUGHTON hadn't succeeded, the programme would have failed and it's [sic] unique formula lost forever.
Combining two interviews by NICHOLAS BRIGGS, this MYTH MAKERS draws out MICHAEL's memories of that time and appearing as cockney seaman BEN JACKSON alongside two Doctors.
In a frank and revealing programme, we even find out which Doctor was MICHAEL's favourite!
SPECIAL FEATURES
Introduction by NICHOLAS BRIGGS and KEITH BARNFATHER.
Biography of both featured artists.