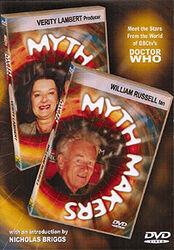 Note: DVD re-release of two interviews that were originally released separately on VHS: Myth Makers: William Russell and Myth Makers: Verity Lambert. The William Russell interview was later re-released as part of The Doctors: The Hartnell Years.
Cover blurb:
DOUBLE THE VALUE!
WILLIAM RUSSELL — Ian Chesterton
"In those days we always used to have terrific discussions about our scripts."
After fifty years "in the business" WILLIAM RUSSELL may well have thought he'd seen it all... But not a MYTH MAKERS!
As WILLIAM travels around London with NICHOLAS BRIGGS to the few locations used in the early years of DOCTOR WHO, NICK draws out WILLIAM's memories of working with JACQUELINE HILL, CAROLE ANN FORD and WILLIAM HARTNELL at the very beginning of the world's longest running science fiction series.
Admittedly it was an unusual means of transport — but at least they didn't have to pay a fare!
VERITY LAMBERT — Producer
"Before it went out on the air there was a huge loss of confidence at the BBC."
VERITY LAMBERT was the first producer of DOCTOR WHO. She was directly involved in creating the very basis of the programme's success and steering it through the first years of production.
In this rare interview, NICHOLAS BRIGGS chats to VERITY about the challenges and limitations involved in producing such a technically difficult programme in the early 1960's and the behind-the-scenes struggles she faced to get DOCTOR WHO on the air the way she believed it should be.
This is a MYTH MAKERS every DOCTOR WHO fans should have.
SPECIAL FEATURES
Introduction by NICHOLAS BRIGGS and KEITH BARNFATHER.
Biography of both featured artists.