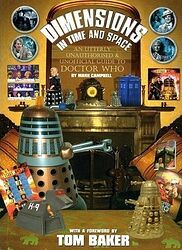 Edition:
UK (2nd paperback)
Released:
October 2005

Publisher:
SciFiCollector.co.uk
ISBN:
1-871330-83-1
Format:
paperback
Owned:
Buy:
Cover blurb:
AN EXCITING REFERENCE BOOK CELEBRATING THE WORLD OF DOCTOR WHO, THE WORLD'S BEST LOVED AND LONGEST RUNNING SCIENCE-FICTION PROGRAMME
This book contains fully updated and revised exhaustive details on the Doctor's adventures in various media — including transmission dates, BBC archive, cast, crew, recording dates, film locations, Doctor Who Magazine index, DVD, CD and book availability, prècis, facts, and story summary:
Television Programmes
The BBC Classic and New series and TV movie, stand alone adventures and charity spoofs
Audio Stories

LP recordings, radio programmes and Big Finish audio adventures

Cinema Films

The two 1960s Dalek films from Aaru

Comic Strips

Long-running adventures featuring all the Doctors from 1964 to the present

Books

Literary outpourings from Virgin, the BBC and Telos

Internet Webcasts

The new way of watching Doctor Who

Stage Plays

Theatrical productions from 1965 to 1989
Mark Campbell is a freelance writer and Doctor Who fan and has written for The Independent, Time Out, Sherlock Magazine and Crime Time. He is married with two children and lives in Plumstead, South East London.
If you wanted to choose Doctor Who for your specialist subject as a competitor in Mastermind, this is the book that you would want to read from cover to cover. It is crammed with facts and figures that would enable you to answer the most obscure of questions. Did you know for example that the filming of Remembrance of the Daleks caused an IRA bomb alert? Had it ever crossed your mind that one of the props used in Dragonfire was in fact a dressed-up sex doll? That water-filled condoms were used as maggots in The Green Death? Or that the Welsh Assembly's First Minister was mistaken for an alien in The End of the World? Well, now you know — and didn't you always want to?
It has been suggested that leaving this book under your pillow at night, will enable its content to filter through to your memory by a process similar to osmosis. This is uncertain, but you may find a crick in your neck in the morning.
What is certain, however, is that this book will enrich your appreciation of the quaintly British institution, that is the world of Doctor Who.