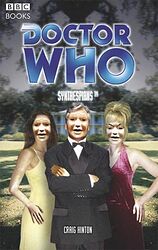 By:
Craig Hinton
Rating:
5.6 (45 votes) Vote here
Review:
Whacky! Read more (4 in total)
Released:
July 2004

Publisher:
BBC Books
ISBN:
0-563-48617-1
Format:
paperback
Owned:
Buy:
Note: The cover had to be changed at the last minute due to rights issues over the photograph used (a doctored version of a Dynasty publicity shot). View original cover
Cover blurb:
"We're the Nestenes, darling," she said, turning to the camera and giving her trademark smile. "We've been colonising other planets for a thousand million years.
"All right, Mr Matheson — I'm ready for my close-up."
In the 101st century, nostalgia is everything. Television from the 20th century is the new obsession, and Reef Station One is receiving broadcasts from a distant Earth of the past, transmitting them to a waiting audience. Dixon of Dock Green, Z-Cars and Professor X are ratings winners — and the inhabitants of the New Earth Republic can't get enough.
But there are other forces in the galaxy; other forces that need Reef Station One. An ancient but dying race sees this human outpost as a last desperate hope for survival... and billionaire Walter J Matheson III sees them as a marvellous business opportunity.
When the Doctor and Peri arrive on Reef Station One, they find a fractured society, totally dependent on film and television. They also discover that the Republic's greatest entrepreneur is in league with one of the Doctor's oldest enemies.
As the Nestene Consciousness spreads its tentacles throughout the Republic, the Doctor and Peri must unravel the link between Walter J Matheson's business empire and the Nestenes. Because, if they don't, they'll end up in the deadliest soap opera of all time.