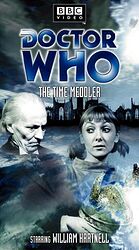 Note: This title is only available separately in the US. In the UK and Australia it was released as part of the First Doctor Collection in 2002.
Cover blurb:
The TARDIS seems emptier without Barbara and Ian — at least until the Doctor and Vicki discover that the astronaut Steven stowed away before they left Mechanus. Steven's skepticism toward time travel pushes the Doctor to confront him with living proof. Shortly after landing on a beach in England, they discover a Viking helmet, but Steve [sic] remains unconvinced. Instructing Steve [sic] and Vicki to wait with the TARDIS, the Doctor seeks further proof.
Heedless of the Doctor's warning, Steven persuades Vicki to explore the cliffs above the beach, where they find an abandoned wristwatch. Meanwhile, the Doctor investigates a ruined monastery, where he encounters an electric toaster, a gramophone playing ecclesiatic chants, and a monk who traps him in an alcove.
Eventually, the Doctor realizes that the famous Battle of Hastings is only a few weeks away. That should provide ample proof for Steven, but who is this mysterious monk, and what is his interest in the events of 1066?